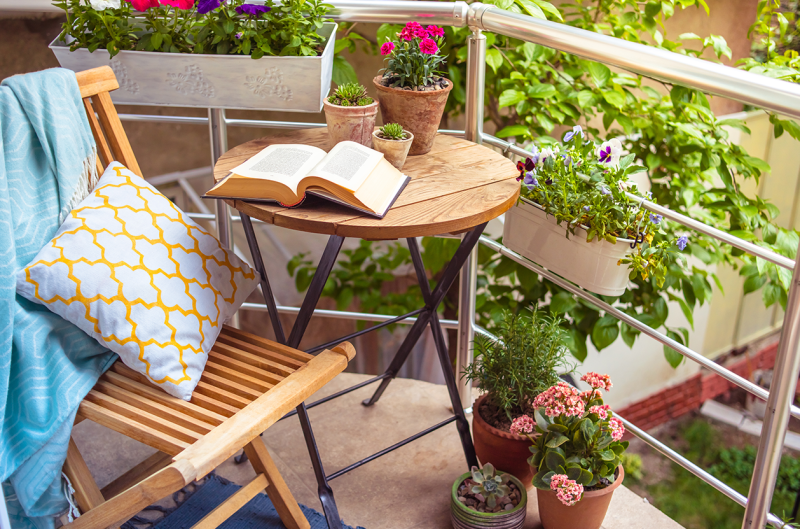 Winter Gardens: For balconies and terraces
Would you like to grow a garden but you live in an apartment? That isn't an obstacle.
Just make the most of the space and build your green retreat.
Forget the idea that fall/winter seems a bad time to start. Enjoying the exterior is always great and it's good for us.
In Portugal, we're lucky to have two sunshine days for each rainy day. So, we must enjoy every opportunity to breath.
Balconies and terraces can be transformed into perfect gardens.
To get that, a big investment isn't mandatory. There are simple solutions, accessible and versatile which you easily can implement to create your winter garden and enjoy the exterior of your house, even during the cold season.
We've gathered some ideas to be considered.
Plants
Plants are never too much!
Choose the plants to use. It is recommended not to mix many types of flowers and foliage up to keep the sense of environmental balance. Another important item is to check if the plant size fits the space.
Pots
Pots are essential, they are the most practical way to keep a garden in a balcony/ terrace and they work as a decorative element. You can recycle old objects for this purpose. You can combine pots with climbing plants and small stones or other elements that give a beautiful effect and as close as possible to a common garden.
Furture
For a small balcony or terrace garden, the ideal is to use some furniture with simple lines. A pair of armchairs or chairs, a small table, a bench with cushions and beanbags are enough to spend pleasant moments outside as having breakfast, reading a book or just relaxing. Avoid cluttering the area.
Remember that what you want is a garden.
Walls
Maximise the walls of your balcony or terrace, where applicable. Provide altitude and give them life in order to contribute to your garden. A vertical garden or a climbing plant can make all the difference in a space that is to be beautiful and comfortable.
Vertical gardens are fashionable and every home, large or small, outside or even inside, can have one.
Comfort
A winter garden can be one of the most comfortable areas at home, even on cold days. For this, one option involves a portable fire or other type of outdoor heating system. Some toasty warm blankets are always a good option too.
Covering
One of the most comfortable options to cover the floor of a winter garden is the composite deck. Very similar to wood, it matches any architecture or decoration, it is resistant to climate change and remains perfect for a long time without maintenance. If necessary, the covering extends to the walls, protecting and embellishing, in a perfect combination with the floor.
To these tips add a dose of imagination and get to work.
If you don't have balcony or terrace, a winter garden can also be built inside. An aromatic vertical garden in the kitchen or even a simple wide pot with a combination of plants (succulents are a safe choice), on top of a table is enough to give a touch of nature to the environment.
First, decide what you need specifically and, above all, simplify.
Be inspired and change your home and your life!